Black Knight Short Story Contest – Notables
In The Nick of Time,
by Barb Cooper
I was down 2-0 and 7-4 in the 3rd game in the final of the World Masters Over 40 Squash Championships in Vancouver in 1992.  The crowd of 1,000 was silent and waiting for the Australian's next shot. If she got the point I was probably out.  I desperately wanted to turn things around but was it possible?
At the end of the second game I had thrown a towel around my neck and as I approached my sport's psyching coach I saw she was mad.
She let me have it with a few choice but unprintable words, and then said "Drop shot the Aussie's knees off".  I argued saying " but that isn't proper squash" My coach said "With this type of score you don't have the luxury of proper squash you have to recover points".
I walked back to the court and felt what I was about to do was cheap.
Still not convinced I continued to play an orthodox game playing predictable shots and digging a huge hole which was now 7-4 and the game was up to 9! My sport's psyching coach signaled me from the sideline that I had to drop the ball.
I knew my opponent had a bad back and probably wouldn't be able to retrieve tight drop shots.  Then I looked around and surveyed the crowd that was mostly Canadian.  Losing on home turf is never a good thing. I didn't want to lose but at this moment I didn't want to win and play what I thought was sloppy squash.
I knew my coach had invested many years in to my game and I realized she had done so much for my game for my life.  She believed in my come back and believed even at the age of 42, I could do it.  I didn't believe it but she did. She had proceeded to do all she could to get me to where I didn't believe I could go.
Mentally I apologized to my opponent and started to drop shot "the Aussie's kneecaps off".  The score swiftly changed from 7-4 for her to 7-5, 7-6, 7-7 tying it up, then 8-7 for me. I won that game 9-7. 2 more games to go!
I approached my coach feeling cocky and she said "Keep doing that and win this tournament or lose me as your coach."  I felt a chill "Why was my beloved coach acting this way?"
It was startling but then I made a realization.  Why did I want to win properly and not play the game and win doing whatever it took?  Is there such a thing as a proper win or is that merely the ego speaking?
Would those Canadians who were now cheering me on turn around and tell me to go back to playing orthodox squash and not finish off the "Aussie"?  I went back to the court and once more proceeded to "Drop shot the Aussie's kneecaps off" taking back another game 9-4. The Aussie was getting very uncomfortable as the score turned around in my favor.
She had a flat swing on her forehand and in her frenzy as she started to lose her senses she ended up hitting me with her racquet.  She caught me with her follow through and cut me on the cheek just below the eye.  I wasn't allowed off the court as the referee said I contributed to the interference.  I had to stop the blood by wiping a bandage on it and continue on with the game. The 5th game went to me 9-2.
The crowd roared when I finally put away the winning shot.  I felt their warmth intermixed with my body's exhaustion from the roller coaster of emotions that I had been through in the last hour.  I felt like crying, laughing and a whole myriad of other feelings. The strongest feeling I had was an overwhelming gratefulness, gratefulness towards my coach who had been tough and yet caring enough to risk how I would feel towards her for pushing me past my limits.
Would I have been able to do that for her or for someone else?  I am not sure.  My coach often told me it wasn't about her it was about my game.  And if I didn't like her methods then find a coach who would pamper me.  She believed that the blunt, raw truth in certain moments is what separates the winners from the losers. If I hadn't believed, trusted or felt threatened by her leaving then I might not have had the inspiration to go out and say no to the belief of orthodox and yes to surviving.
What is it that makes certain coaches have this ability?  What is it that makes other coaches just put in time and say what the student wants to hear?  I have come to realize it is character.  My coach had guts and character.
She knew I wanted to win in an orthodox way and she also knew that winning isn't about being orthodox or even about being proper. Winning is about giving the body the tools it needs in that moment.  Winning or losing isn't about pleasing the audience. Nor is it about reinforcing others beliefs, it is merely personal survival.
My coach was teaching me how to survive emotionally and physically in the sport and other life situations.  It was important for me to win and prove to myself that at 40 I wasn't over the hill. It was important for my self-esteem that I could make that comes back. That would give me the impetus to recover the belief in myself and allow me to lose the negative feelings of being "a has been."  Then I could enter into my 40s feeling I had once again arrived.
I also realized that my body was a miracle machine and it could make a "come back" and reach a goal that I had not anticipated.  That was over 20 years ago and many others lessons have been learned but this lesson stands out as a defining moment.  A crossroad in life that I had to chose one way or another and live with the consequences.
Being responsible for one's choices was part of my coach's DNA that she imparted to me.  I look back over those past games and realize that when things came easy to me I didn't respect them in the same way as when I worked my butt off.
This was my reasoning process that if things became too easy then perhaps they weren't worthwhile.  As I got older I began to make certain things more difficult in order to feel that sense of worth. I had unconsciously developed a mantra that the % of effort = results.  This equation began to control my life and my game.
When my coach came along and ask me to create a win with a drop shot it seemed too easy to me.  I couldn't see it as the simple solution of how to win that game. I wanted to create a huge mountain to climb in order to feel I earned my laurels that is how my subconscious took me down almost 3 games before I snapped out of it and went for the simple drop shot solution.
Success is there for the taking and you don't have to kill yourself to get it.  The only obstacle you have to overcome in order to take success is yourself.
Thankfully that happened to me just in the nick of time!
About The Author: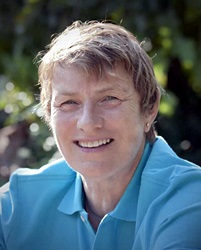 Barb Cooper is a best-selling author and world-class coaching expert who is regularly sought to help at provincial, national and international levels, coaching all aspects of performance, both in sport and business.
Based now in Toronto, Canada, Barb has been involved in squash for the past 35 years. Having been in the top 10 in the world and owning 10 world masters squash titles; she is a unique coach, able to create great change by identifying strengths and weaknesses in any individual, team or organization. She draws on her experience as a Master Learning Facilitator, which gives her skills in managing conflict, psychology of performance, coaching and leading effectively and making ethical decisions.
Barb Cooper is the proud recipient of the Syl Apps Ontario Sport Award and the National Achievement Award for the Province of Ontario, and is the only Level 5 Squash Coach in Canada.
Provincially and internationally she has represented Great Britain, England and Canada and is now the author of www.HelpMySquashGame.com where she continues to share her knowledge.