BREAKING GLASS
Chapter EIGHTEEN by John Nimick
I know what I must do, I know what I must do.
Tyler was exhausted.  Two hours and 10 minutes of pure agony in the hot, humid Rio air, if you can call it that.  But he had won 11-8 in the 5th over Rupert Evans, the up and coming Welsh rabbit, in their quarterfinal match before a packed crowd at the Copacabana glass court venue.  As the cheers and lounge music faded, Tyler stripped off his soaked shirt, third of the match, and slumped in his player seat, downing Gatorade after Gatorade while the squash press stumbled around.
"Ici, Wolfie, c'est por moi maitenant.  My turn, my turn!"  Tyler lifted the towel off his head and saw Bertie Dejeuner squatting in front of him with a microphone boomed out.  "Zat was quite a match, Monsieur, pour un jouer avec trent six annees!  Encroyable…mais, how do I say…all you?"
"Fuck you, mate, I'm done," spat Wolf.  He'd had enough of this ongoing PED crusade now that everyone could read online about the accusations.  OK, so they weren't just accusations, but they were…old.  Grabbing his racquet bag and leaving the rest of his soaked crap behind, Tyler headed for the players' exit.  Loads of fans, mostly female, were still lined up on either side of the low barriers and Wolf stopped to sign several obligatory posters and programs and one very appealing breast before jogging through the entryway, passed the uniformed guard and into the locker room.
This wasn't the luxurious surroundings of Queen's Club.  No, promoter Allenby and his minions hadn't spent a lot on the player amenities at the Copacabana venue.  Granted the Copacabana Hotel where the players were staying was just across Avenida Atlantico, but still this sucked as a changing room.  Just a bunch of cardboard stalls in a temporary trailer, one for each sex, connected to a "luxury" bathroom trailer with two private crappers.  But at least it was private and, with only a few matches each day now at quarterfinal stage, generally quiet.
Fucking squash press, Wolf said to himself as he hurled his kit into an empty cubicle.
The last few days were a blur.  Wolf's ability to separate fact from fantasy was being sorely tested, but one thing he knew for sure was that the fucking Russians had Shelley and his new instructions were to win the goddam tournament…or else.  Somehow, Wolf needed something to trade.
Tired and pissed, the American kind, Wolf stripped and eased himself onto a bench and then onto to the floor, at least carpeted, to begin to stretch.
"Hmmmm….ohhhh….yes, yes….wow!"  The door to crapper no. 1 banged against its hinges.
Wolf obviously wasn't completely alone.
The door banged again and again.  The cheap airplane-style plastic was actually bulging in the middle.  The heaving became more frenetic.
"Baby, baby…now!  Oh, Andres….yes."
Wolf sized up the situation immediately.  Andres Lopez was also, miraculously, through to the semis, dancing around Egyptian champion Ahmed Ali Anwar Phanuk in 4 games in the match before Wolf's, and was now obviously enjoying the fruit, spoils, cleavage, etc available on the way out of the arena.
Wolf wondered exactly who Andres was enjoying.  Quietly he picked up his racquet bag and moved out of the line of sight of the restroom doors.  He also slipped his new phone out of his valuables bag and turned it on.  Wolf had picked up the new SombraSoft ZRock at the airport, not being able to resist the jet black device that looked and handled completely like a stone, until of course you pressed the cupuacu and spear logo in just the right spot.  Wolf manipulated the device and turned on the 8G HD video camera.
"Fuck me!"
After a few quiet minutes, the bolt slid back with a clack and two semi-naked, quite athletic figures, tumbled onto the floor.  Andres Vargas and Emily Miller.
Emily lay on her back breathless as Vargas slowly traced his finger from her chin to her navel.
"One more, no?" said the Colombian star.  Lopez pulled the giggling, petite American back on top of him as Wolf bent around the corner, aimed the phone and let it roll.
"OMG!" cried Emily as she scrambled to stand up.  "What's the score with Wolf's match?  It could be over!"
Emily ran to one of the women's cubicles and pulled on the top and a pair of shorts she had stashed there.  Poking her phone while running back to Lopez, who hadn't moved from the floor, she squatted over his chest and gobbled up his lips, tongue, and part of his Romanesque nose and said, "Bye, amor.  See you at the Players Party?"
Before Lopez could respond with more than "Si", she was gone.  The Colombian stud lay spent on the floor, no pants, torn shirt and one sandal still clinging to a few elegant toes.
Wolf came around the corner.
"Well, mate, good on ya.  That's the best post-match rehab I know of."
Lopez scrambled to cover himself.  "Oh mi dios."
"No worries, mate.  Been there, done that.  But I do have two questions for you."
"How old do you think your little aspiring college girl is?"
Wolf moved to the trailer door and turned the lock.
"And do you know what Ms. Miller's father does for a living?"
+++++
Allenby was a basket case.  Leaning back in his temporary office chair in his temporary office in his temporary production trailer at his temporary beachside squash tournament, the promoter wondered whether his very breathing was, indeed, only temporary.  He took another long pull on the bottle of Scotch.
With his insurance scam blown, sexuality in question, DEA and Interpol sniffing around and CEO of the joint global squash tour held hostage, there wasn't a lot left to enjoy about this little project.  The only thing still seemingly working was Mallinson's extraordinary TV magic, but at what price?  He was probably dead, too.
Someone knocked on the door.  "Senor Allenby?  Estas ahi?"
Allenby plopped the Scotch bottle behind a big case of white Dunlop balls and rolled out of the chair to the door.
"Who is it?"
"Andres Lopez, senor, and I need to talk.  Muy importante…por favor!"
Allenby checked the security monitor to confirm a single person on the steps and opened the door a crack.  The security lights of the empty squash arena cut the inky darkness into a black and white checkerboard behind the unexpected visitor.
"What is it Lopez…you can get any info you need at the tournament desk in the hotel and you can pick up your Player's Party passes there, too.  Oh, yeah, and congrats for getting through to your first major semifinal."
"Senor Allenby, quizas mi final semifinal."
+++++++
What the fuck was Wolf doing?  Blackmailing Lopez to throw the final IF he got that far?  Fortunately they were on opposite sides of the draw so both would have to get through tough opponents to bring this potential dog's breakfast to life, but Allenby had to laugh and cry at the same time about this wrinkle.  It was true that man only had enough blood to run one at a time.
Wolf had played like a madman in both the 32s and 16s after his tank job with Fosu failed in the 64s.  And that Herculean effort just a few hours ago over Evans in the Quarters was no put up job.  Why take out insurance with Lopez if Wolf was now back on the level?
"Senor, I want no problem con Wolf…and I want to win diz tournament!"
"Well, you can probably skate with the locals.  Emily turns 18 next week, but if he gives that movie to Maxwell Miller and the media you're gonna need a modern chastity belt to survive."
Vargas slumped back in his seat.  One of the production trailer's work lights shone down directly on his face.
"It was just some fun…" he started to say, his blue eyes rolling from left to right in his deep brown skinned sockets.
Allenby paused and looked fully at Vargas in the strong light.  He didn't know this young tempestuous player well, but something, something about him looked familiar…
Of course!  The picture on Mr. Fino's desk.  Allenby was looking at an older version of the teenager clasped arm in arm with the huge mega-industrialist after a game of squash.
"Lopez, do you know Mr. Fino?"
"Of course, he is the grand patron of squash here, and in all South America.  I know him many years…he help my career always."
Mr. Fino and SombraSoft drop two million to sponsor this shindig in Rio and this kid is through to the semis?  The first ever major semifinalist from Latin America?
Fuck, thought Allenby, there's action on both sides of the draw.
"Lopez.  Get up and collect yourself.  Everything's gonna be fine.  Get over to the hotel and get ready for the party.  I've gotta make a call, but I'll see you there in an hour."
Allenby closed the door behind Vargas, shot the bolt and punched F on his phone.  It rang for half a tone.
"Si" answered Renato Bulsara.
"I need to see Mr. Fino tonight…before the semis tomorrow.  You know where to find me.  Your boy's in trouble."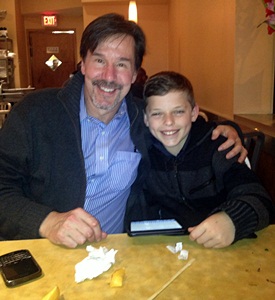 JOHN NIMICK is an American squash player and promoter best known for his presentation annually of the Tournament of Champions in Grand Central Terminal in New York City.
The Philadelphia native reached a ranking of no. 2 on the World Professional Squash Association hard ball tour and represented the United States twice in the World Team Championships.
After serving six years as the Chief Executive of the Professional Squash Association, he launched Event Engine in 2000, a sports and entertainment marketing company which continues to promote squash through professional tournaments, special events and, now, action novels.
John lives in Boston with wife Kate and son Tyler, a college junior, and enjoys his hip replacement and BlackBerry.