BREAKING GLASS
Chapter SIXTEEN by Georgetta Morque
Maxwell Miller II peered out the window as the plane was about to land, gazing at the sparkling water and famous Sugar Loaf Mountain.
He had hoped get to Rio sooner to see his daughter, Emily, play squash, but his case in New York dragged on and the jury finally reached a verdict, but not in his client's favor.  Maxwell was so enraged that he spent almost the entire flight in first class downing complimentary vodka tonics. His career had plummeted. All he could hope for now was to somehow land a really big case that he could win and prove himself to the world. As the light for the fasten seat belt sign beeped off, he rose to his feet, a bit unsteady, to collect his belongings.
"Are you all right, sir," asked the steward.
"Of course I am," Maxwell replied gruffly.
Maxwell had gotten word that Emily's 3rd round opponent had defaulted due to injury, so now she was to play what could be the biggest match of her squash career as she faced Florencia Perez, the Argentinean wonder. While he had never seen Florencia play, he had heard about her reputation from his daughter. Of course, when it came to commenting about any of the players, Emily was always highly critical, actually rather insulting.  So he was curious to see for himself and very anxious about the match. This could be very big, he thought. In his mind, sponsorships, scholarships – there were all kinds of possibilities riding on this. He hopped in a taxi and headed right for the courts.
Emily slipped off her red warm up jacket, retied her shoes, fixed her pony tail and stepped on court, ready for business.  She started hitting rails as hard as she could, hoping that her anger would stir up her aggression for the match. She didn't know who she hated more – Florencia, whom she always hated, or Julia, who in a jealous rage, riddled Emily with insults for running off with Andres Lopez. After all, thought Emily, Julia didn't have any claims on him.  And then there was Andres who hadn't spoken to her since their passionate night at the beach. He ignored her texts and voicemails.  Just thinking about all his made her hit even harder. Yet as much as Emily tried to muscle the ball, her shots were like more like a taser gun, while Florencia's rifled through like a cannon.  The Argentinean was raw power.
Crowds started to gather and Emily scanned the seats to look for Andres but couldn't find him. As soon as the match began, Florencia immediately took control, whipping rails and cross courts deep in the corners.  In no time, game 1 went to Florencia, 11 – 4.  Emily couldn't get out of Florencia's way. With her long reach, the power hitter seemed to be everywhere on the court. Stroke to Miss Perez, called the ref.
"No way," an angry voice shouted out. Emily knew that sound well.  Her father had arrived.
"That's a let," he cried.
"Quite in the stands please," said the ref.
That interruption seemed to catch both players off guard, causing them each to make a series of errors which brought the second game score to 9-7, Florencia.
Beads of sweat poured down Maxwell's reddened face and neck as he paced back and forth, gritting his teeth and clenching his jaw.
"Down in front," cried the spectators.
Maxwell quickly took out his pen and legal pad to jot down notes about Emily's shot selection, as he always did, and listed her unforced errors.
"Come on Em," he shouted. "You've got to do this," he yelled even louder, pumping his fist. "You have a chance."
But Florencia hit a winning nick and at game point, Emily tripped trying to redirect herself to retrieve one of Florencia's tricky drop shots.  Game to Miss Perez.
Emily threw her racquet down.  Conduct warning to Miss Miller.
"What?" yelled the over agitated dad. "Where's the tournament director? Where's Shelley Anderson. This ref has got to go."
"Sir, if you don't stop, we will have to send for security."
"Fuck you," he mumbled, running his hands through his dark hair, speckled with gray.
The last game proved useless for Emily who was now furious with four people, the fourth – her dad.  And, she still kept glancing at the crowds searching for Andres.
"More length, Emily," shouted Maxwell, looking desperately up at the sky as if a higher being would help rescue him from this torture and miraculously turn the match around. But the squash gods favored Florencia, who just came on stronger, while Emily became even more distracted. Maxwell buried his head in his hands.
Match to Miss Perez.  The crowds clapped.
Emily stormed off the court.
"Em," shouted Maxwell.
"Why did you have to come," snarled Emily.
"Hey, is that the way to greet me?  Where are you going anyway?" he asked Emily sternly as she gathered up her gear, ready to take off.
"Gonna chill."
"You text me later or I'll text you. Hey, is there a consolation draw? I have notes for you…."he called out to her as she raced away.
Happy hour started early at the hotel bar, which was bubbling with people mingling and laughing. The pink marble walls and mosaic tiled floor, multi-colored bar stools and lively scene provided a much needed oasis for Maxwell. The familiar sounds of bartenders whipping up cocktails and the clinking of ice cubes in glasses were comforting to him. He started on another round of vodka tonics which he felt he deserved after all he'd been through.
"Hello Mr. Miller," a champagne blonde in a black tank top greeted Maxwell and offered her hand. I'm Erika Hoskins, Florencia's coach."
"Oh, Erika, right. Please, call me Max. Can I get you a drink?"
"A caipirinha would be great, thank you. Tough match today."
"Yes, very tough. That's some player you've got."
"Yes, yes, but I'd love to talk to you about Emily. I think I could help her."
"Really," he said while checking out Erika from top to bottom.
"I think she has a lot of potential. I do have some time and I think I could work with her if you like."
"Do you really, that's good news. Here's to Emily," he raised his glass to hers.
"Wow, it's gotten really crowded here," said Erika. "Shall we go somewhere else to talk more about this?"
Maxwell's gold wedding band ricocheted beams of light across the ceiling as it caught the late afternoon sun shining through the window.
"Sure."
Tyler Wolfe was like a big kid with a new toy as he set the laptop of the deceased squash reporter on the desk in his room. He called Shelley's cell phone to tell her about his discovery but again she didn't answer.
Hmm, let's see, will it be password- protected, he wondered as he opened it up. He had thought of various possibilities – smashingballs, Buckler, squash2020, and other rather obvious guesses.  But to his surprise, a password wasn't necessary. He got right in and a couple of documents were still open.
Tyler burst out laughing as he quickly skimmed over something about Sarah which looked like a script for an après squash porn flick. Wow, that sneaky Buckler, he thought. Who knew?  Then he came to Murder on the Squash Court, take 2.  Holy Shit, he gasped out loud. This is about me!
His cell phone vibrated.  Hoping it was Shelley, he picked up the call – a restricted number.
"Tyler, you must turn in the computer," said a faint yet familiar-sounding voice on the other end.
"Shelley? Is that you? Shelley, where are you? You sound so far away."
"You must just do what I say," she pleaded in a desperate tone.
"But there's something here…."
"I know, but you have to give the computer to…"
"To who?"
"Agent McDiarmid."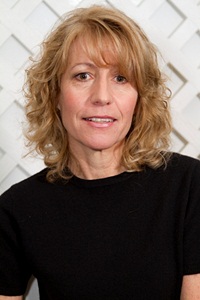 GEORGETTA MORQUE is the director of media relations for the Pro Squash Tour. Born and raised in New York City, she acquired the passion for squash through the legacy of her late father, Joe Lordi, a national squash tennis champion and two-term president of the New York Athletic Club where the squash courts are dedicated to his memory.
A longtime public relations professional, she has also contributed to a variety of publications, such as Hearst's HealthyLife, the Rye Record and others.  Georgetta is the founder of the squash program at the Rye school district in New York's Westchester County and was instrumental in creating the Fairwest league for public schools.
She is the mother of three athletes, including a son who plays on the squash team at Franklin & Marshall College.
Next Up Chapter 17 by Will Gens