The final matchup of the top two seeds lived up to its billing as Alister Walker finally prevailed over Adrian Grant to win a 100-minute finals and claim the PSA $25k Pittsburgh Open title to add to the Dayton Open crown he won last week .
[2] Alister Walker (Bot) bt [1] Adrian Grant (Eng)
11-7, 6-11, 11-4, 15-17, 11-2  (100m)
Steven Baicker-McKee reports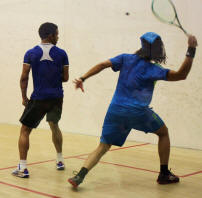 In game 1, the players started conservatively, with long rallies up and down the wall. Walker made fewer errors and carried the game. In game 2, Walker tried to increase the pace and intensity in game 2.
"I knew I didn't want to play at Adrian's pace all match," Walker said, "but Adrian's accuracy in game 2 made it very difficult for me to cut off the ball." Grant jumped out to an 8-4 lead and closed it out 11-6. Walker came out with more purpose and energy in game 3, and sprinted to leads of 5-0 and 9-2, and the match looked all but over.
But Grant proved why he is number 17 in game 4, ramping up his energy level to match Walker's. Grant started attaching more himself, and jumped out to a 6-2 lead. But Walker came charging back to knot it at 6 all, and things stayed close from there on. The pace of play was so frenetic that Walker broke strings on 5 rackets during the 37 minute game.
The players knew the tournament championship was on the line, and the shot making and retrieval and effort level from the players had the capacity crowd gasping and applauding at almost every point.
Walker had match ball at 10-9, then Grant had game ball at 11-10, and so on until Grant won the game 17-15. The marathon game seemed to take something out of Grant, however, and Walker dominated the final game.
Tournament Page: www.squashsite.co.uk/2009/pittsburgh2011.htm