BREAKING GLASS
Chapter FOUR by Jamie Crombie
Erika Hoskin was Florencia Perez's coach, but their relationship of player/coach was not your typical relationship. The degree of interaction was at a level never seen before on either the men's or the women's pro tour. Erika had waited for twenty years to finally get a pupil in which her skills as a coach could be fully appreciated and utilized. An ex touring pro who had an uncanny knack at winning every close match was her own personal claim to fame. Unfortunately, when those wins came they were in the first round of qualifying in some small rinky-dink tour event. Those matches didn't bring her much recognition as a top player or even as a potential coach.
Erika had absolutely no physical or technical skill so her ability to win any pro match was a testament to her ability to think. It was this attribute, which she knew with the right talent, and guidance would create not a great player but a world champion. But who knew other than the twelve people who came out to the 1st round of the Slago Open that Erika was a master tactician.
So when it was time to hang up her racquet, she wasn't exactly scooped up by some of the most prestigious clubs in the US. For so many retired pros, the US squash scene was the place to earn a living.  When she took a job as an assistant coach at New York Junior Academy, she was only ever given the kids which all the other six coaches didn't want. The combination of a male denominated sport with a squash pedigree, which didn't light up the page, left her with little options as to who she was left to work with. But with the help of the public library in New York, Erika was able to further master her skills as a tactician like no other through her desire to read every single book on how wars were won.  A resource used by no other coaches but with the right mind and body as a pupil, this advantage could rewrite the book on how to play squash. So when Florencia was handed to her on a platter, it was as if this was another reject for Erika. She knew that she couldn't blow this golden opportunity. Secondly, her sense of paranoia kicked in, so nobody was going to steal her future star from under her wings, and this is when her gem started her mysterious path to the top.
********************
Usually when you get this close to the actual start date of a tournament, your checklist of items to complete as a tournament organizer would have shrunk to a manageable level. But to John's dismay his list of items seemed to have this very sick sense of humor. The checklist had this incredible ability to add an item just as quickly as John checked one off the list. He checks off the list that his stadium seating has been completed only to add that the seats have sticky syrup covering many of them so they would have to be individually cleaned by hand. His PA system was completed only to have a two speaker's blow a fuse and somehow have to be completely replaced.
Maybe it was these constant disruptions to the master plan, which had John up before his 6am alarm clock was set. But either way, he was up when the head of the court construction, Phil Peters, called him at 5:45 am.
"Hey Phil, what's up ."
"What do you mean two glass panels are missing?"
"So you are telling me, at 6 fucking am in the morning that the two panels for the glass court were never in the container to begin with and why am I hearing about this for the first fucking time just hours before the qualifying start?"
John was shaking he was so mad, but as an event organizer you have to go into survival mode and switch off your emotions and try to come up with a resolution. As Shelley Anderson had already dealt with the Head of Security at the docks, it was time to get her back involved. One quick phone call to her cell and a request to be in his room in five didn't go over well but was agreed upon with a quick yes.
********************
Even with five minutes notice and 6 in the morning, Shelley still looked good as she walked through the door to John's hotel room. John proceeded to tell her the news about the missing panels and the need for answers as to their whereabouts.
"Get that fucker on speaker, now," John demanded.
Shelley quickly dialed his number and waited for an answer. Eight further attempts later a groggy voice picked up the phone and Shelley laid her phone down on the table while putting it on speaker for both John and her to hear.
"Hi, Victor this is Shelley."
"There seems to be a problem with the court."
"Two of the glass panels weren't in the container."
"What do you mean, there is a new deal, I already paid you the argued upon price."
"Did you just say my skinny white ass wasn't worth $20,000?"
"You son of a bitch."
"What do you mean dial this number?"
"I'm not dialing any number, you…" Click.
There was only a ring tone on the other end and Shelley and John were stunned at the development that was just presented to them. Shelley can't believe her sex appeal had failed and John didn't know what the hell this all meant. Either way, they were screwed.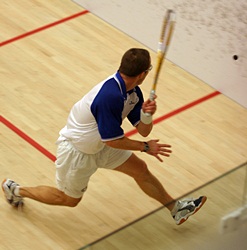 About the Author
Jamie Crombie is a retired professional squash player. He captured 19 PSA tour titles and achieved a career-high world ranking of #32. More recently, Jamie reached the semifinals of the Canadian National Men's Open at the age of 45. He has been a lead actor in Cromski videos and is the owner of 03 Sports.

Next Up: Chapter Five by Georgetta Morque